Inbound Marketing Vs Outbound Marketing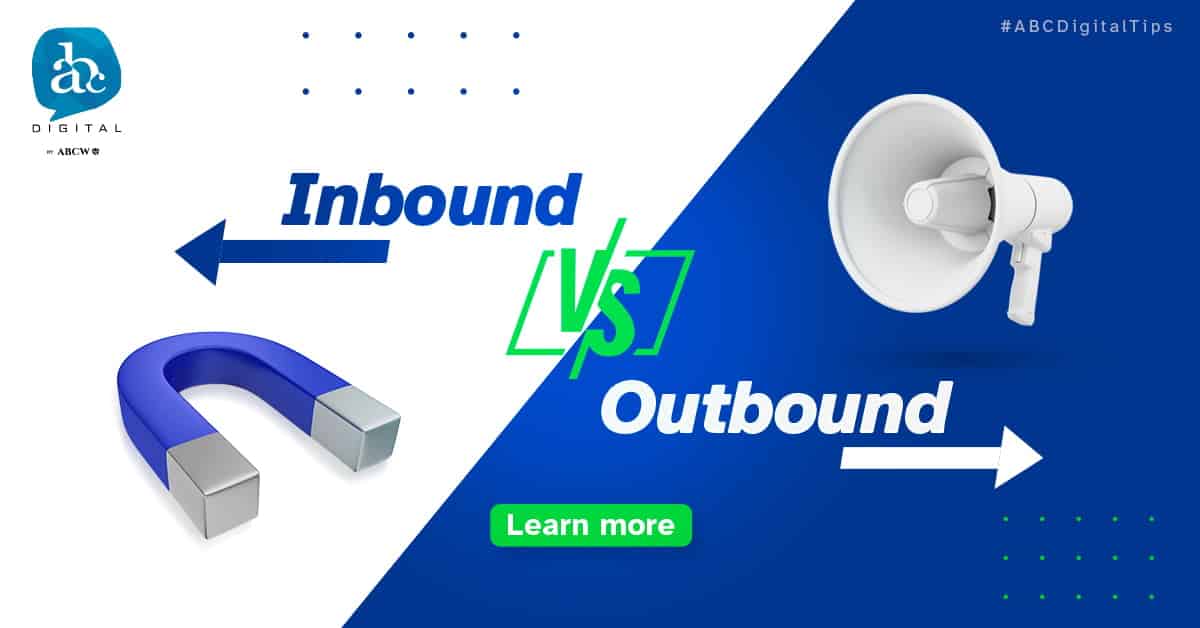 When you are at the head of a company, you find yourself in the need to find the best options to reach the top in the fastest way possible. Therefore, on ABC Digital we are going to explain the differences between two different methods you can use. First, you can use Outbound Marketing. Secondly, you can use Inbound Marketing with the help of a specialized agency. Which one is best? Let's find out!
The concept of Inbound Marketing
This type of marketing is used to describe non-intrusive techniques whose goal is to attract customers. They use valuable content to bring customers willingly to your brand.
Advantages
This type of digital marketing has multiple advantages. Here we list some of them.
It makes valuable content for the audience
It has a low cost
Produces more web traffic
Upgrades branding and visibility
Allows for metrics to be made
It is profoundly focused on customers
Builds the buyer persona
It is not intrusive
Agencies usually have a high Return of Investment (ROI) rate
Communication with customers is bidirectional
Disadvantages
Inbound Marketing is not just a good thing. Next are some disadvantages that should be considered when using this strategy.
Results are long term
There is huge competition online
It requires a lot of planning
What is Outbound Marketing?
Outbound Marketing is the complete opposite of Inbound. it is defined as every action that is taken to sell a product or service in a direct way, the same model as traditional marketing. It uses traditional methods such as radio, television, and big or small format printed advertising.
Advantages of Outbound Marketing
Being old and traditional doesn't mean being bad. Let's take a look at some advantages of outbound marketing.
Segmentation of the target market
Face to face contact
Short term results
Bigger reach
Communication is massive
Disadvantages of Outbound Marketing
On the other hand, we also have some disadvantages.
Its main goal is just to sell and people realize it
It is intrusive
Costs are high
Communication is unidirectional, there is no interaction
Its impact cannot be easily measured
The changes it makes take longer
Limited information about the products or services due to its cost
¿Inbound or Outbound Marketing?
To answer this question we have to keep in mind that not all audiences are familiarized with paid media. Because of that, before developing any marketing strategy, you should consider using the help of an Inbound Marketing Agency to study and get to know your customers and so be able to decide the most appropriate for your company.
However, if you want to get the best results, it is advisable to mix the use of traditional marketing with inbound marketing if possible. You can contact an agency to learn about what suits you best.
We Create Experiences
If you wish to create a successful inbound marketing strategy for us, we're the best Marketing Agency. With our advice, you will create a successful inbound marketing strategy position your company itself quickly and efficiently. Contact us!
Create a successful inbound strategy, come with us! , we're the best Inbound Marketing Agency, your company will position itself quickly.